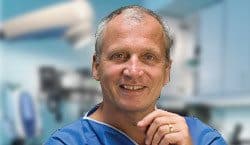 It has just been announced that Professor Arnaud Wattiez will deliver the prestigious Alec Turnbull Lecture at the upcoming ASM in Hull.
Professor Wattiez is the President of the European Society for Gynaecological Endoscopy and a world-renowned minimally invasive surgeon. His work is at the forefront of technical advances in endoscopic surgery. Over the years he has developed widely accepted techniques in the treatment of pelvic organ prolapse, endometriosis, and gynaecological oncology. So, it should be a fascinating lecture.
Sir Alec Turnbull was a Professor of Obstetrics and Gynaecology in Oxford and a key figure in the development of minimally invasive surgery in this country. Every year the BSGE organise a lecture at the ASM in his honour. The very first lecture was given more than a quarter of a century ago by Professor Jacques Donnez in 1990. That was in Hull, so this year it is going back to its roots in East Yorkshire.
The rest of the programme for the ASM is being finalised, so watch this space for more news and information on how to book your place.