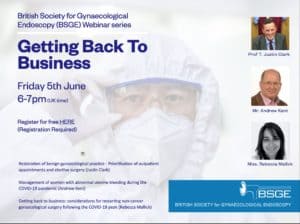 The BSGE will be running a series of free Webinars for members and other interested parties. The first specialist session will take place via the Zoom platform on Friday, 5th June, between 6 and 7pm. The plan is to run webinars regularly, every 2-4 weeks.
BSGE Honorary Secretary Shaheen Khazali launched the innovative new programme, saying:
"These Webinars will be free for all (non-BSGE members are welcome), so feel free to forward this to your colleagues who may be interested. BSGE members will be able to access the recording of these webinars via the members area of the BSGE website.'
The topic for the first webinar is, of course, Covid-related. The title is "Getting back to business" with presentations from Prof Justin Clark, Mr Andrew Kent and Miss Rebecca Mallick.
Restoration of benign gynaecological practice. Prioritisation of outpatient appointments and elective surgery with Justin Clark
Management if women with abnormal uterine bleeding during the pandemic with Andrew Kent
Getting back to business: considerations for restarting non-cancer surgery following the Covid-19 peak with Rebecca Mallick
Participants will need to register using the link below. They will then be sent the link to join the webinar and will receive a CPD certificate after the meeting.