BSGE will be running the second in a series of free Webinars on Tuesday 16th June 6-7pm.
Following the project's successful launch on June 5th, the second webinar will explore minimally invasive gynaecological surgery in the time of Coronavirus.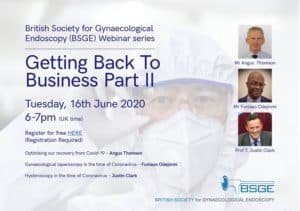 Download flyer: BSGE Webinar Series-Getting back to business (2)
The second 'Back to Business' session will feature presentations for Justin Clark, Angus Thomson and Jimi Odenjimi.
Optimising our recovery from Covid-19- Angus Thomson
Gynaecological laparoscopy in the time of Coronavirus- Funlayo Odejinmi
Hysteroscopy in the time of Coronavirus- Justin Clark
The live webinar is free for all. Non-BSGE members are welcome, so feel free to forward this email to your colleagues who may be interested. Following the session, BSGE members will be able to access the recording of these webinars via the members area of the BSGE website.
You will need to register using the link below. You will then be sent the link to join the webinar and will receive a CPD certificate after the meeting.
Register HERE to join the session. 
Looking forward to seeing you all on Tuesday, 16th June at 6pm