An innovative BSGE app has been launched in time for ASM 2019, meaning that the conference will be totally paperless.  The technology was developed by the Society's website hosting company together with Website and Digital Governance Portfolio Chair Fevzi Shakir. Fevzi said that the app would be better for the environment and for delegates:
'The app is fully secure with excellent functionality. Delegates will be able to access the schedule, ask questions, vote and immediately see if there have been changes to rooms or timings. It's an exciting project that should enable members to get even more out of the conference.'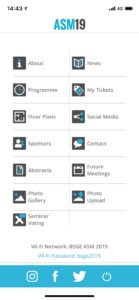 With floorpans, abstracts, news, seminar voting  and social media links the app is clear and user-friendly. The app also allows members to upload images to share with colleagues, helping facilitate greater interactivity and engagement.
The BSGE ASM app is now available to download from both the Apple and Play stores. Members  will need to use their ASM website username and password to log in, however you can stay logged in for the duration of the conference. Fevzi will explain the process in more detail during the  ASM, however the BSGE editorial team used the app for the first time today and we found it quick, easy and intuitive. Fevzi reassured members saying that 'it is very simple and I am sure most of you will work it out!'