BSGE ASM 2019 is being held at the Celtic Manor, a magnificent conference venue, near Newport in South Wales. The Local Organising Committee have negotiated very competitive room rates, but to take advantage of this offer, they must be booked by February 18th, so the deadline is looming.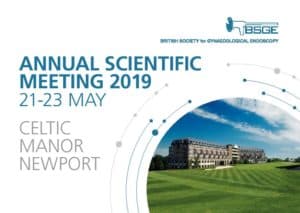 This year's ASM is the result of collaboration between teams from Bristol and Cardiff. Celtic Manor,near Newport, was chosen as a venue because of the superb facilities, convenient location between both cities and excellent transport links.
'Prudent healthcare through innovation, technology and excellence'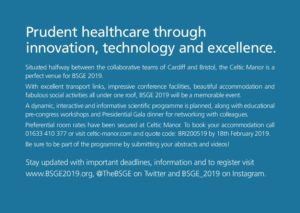 The conference theme is of providing prudent healthcare through innovation, technology and excellence. The co-chairs of the local organising committee (LOC), Sanjay Vyas and Richard Penketh explained the ethos behind the title:
'Prudent healthcare embodies co-production, effective useof resources, doing only what is needed and reduction of inappropriate variation using evidence based practice.'
They added that they were confident that, as minimal access surgeons, BSGE members would already embed these principles into their practice saying,
'Minimal access surgery innovates continuously with new technology as it strives for excellence and has a fantastic track record of improving patients' lives as a result.'
The programme is designed to build on this and aims to both inform and challenge delegates. The invited speakersare experts in the field and the sessions should prove botheducational and entertaining. Novel presentation methods have been introduced, with the aim of increasing audience participation and facilitating feedback.
The LOC emphasised that the BSGE is, and always has been, a multi-disciplinary society. This year the programme has been developed so that participation is also multi- disciplinary:
"We have moved away from the nurse / doctor split in the programme, and hope that members of every sort will be able to learn from and contribute to the sessions together reflecting the joint manner in which we all spend our working lives. It is this sort of teamworking that results in excellence inpatient outcomes."
The co-chairs of the local organising committee, Sanjay Vyas and Richard Penketh encouraged members to join them in Wales and to join in with the scientific and social programmes:
'The BSGE is a vibrant and energetic society and its successdepends solely on you, the members. We hope that youcontribute and participate in our ASM, and look forward to meeting you all at Celtic Manor 2019.
For more information and to register click here.