The BSGE offered members the opportunity to present their work at the Society's Virtual Annual Scientific Meeting, in March 2021. The meeting is likely to attract over 500 delegates from around the country, making it a prestigious platform to showcase work.
BSGE members can submit entries for oral, video, and e poster presentations. The contributions can comprise of original scientific work, surgical techniques, audit, service developments, and innovations of any sort. There will also be the opportunity to scoop awards including "THE KARL STORZ Golden Telescope".  The winner of the 'Best Video' presentation will earn this prestigious prize and join a talented few in history. In addition they will receive a KARL STORZ-supported BSGE bursary to attend a KARL STORZ supported course, within Europe.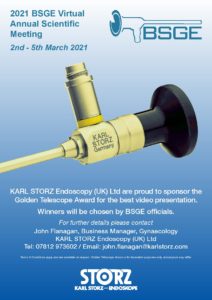 BSGE President Justin Clark said:
'The beauty of our immersive, virtual platform is that we are not limited by 'space' and so can provide a unique opportunity to accommodate more presentations of good quality and interest. I do really feel that this means we can definitely provide 'something for everyone' and we aim as always to give you a varied and balanced programme. The best presentations will be chosen for the live streams.
 
'This year's theme is "Embracing Change, Maintaining Excellence". We have all had to contend with the disruption this pandemic has caused to our lives. We have all felt the impact professionally. I have been proud and impressed by colleagues versatility and innovative thinking to keep delivering excellent care and provide training opportunities, despite the challenges imposed upon us.
'Exciting times!!! I look forward to seeing some excellent presentations and posters showcasing the brilliance of our members.'
How to submit an abstract
First register in the submission system including the following informationt:
Primary author's name, position, organisation, full contact address, telephone and email address. This information will be used for all further communications.
Names and organisations of co-authors.
The presentation preference of video, oral or e-poster presentation or either.
For more information on how to use the online abstract submission system please click here.
Please note all accepted poster abstracts will be presented as e-posters at the BSGE ASM 2021. If your abstract cannot be accepted for an oral or video presentation, it will automatically be considered for an e- poster or video poster presentation. The BSGE Scientific Committee reserves the right to decide on the final method of presentation. The authors must declare conflicts of interest.
Please remember that submitting an abstract does not automatically register you as an ASM delegate. The details submitted within the abstract submission system for the primary author will automatically appear in the programme. If an abstract is accepted for presentation, at least one author must pay the registration fee to attend the ASM. The presenting author MUST register for the meeting by the Early Bird deadline 5th February 2021. If the named abstract presenter has not registered for the ASM by 5th February 2021, the abstract will be considered to be withdrawn.
Any video that has won a prize in a previous BSGE video competition cannot be entered as a video presentation at the ASM.  This could result in the author receiving two prizes for the same video publication, which the BSGE Council considered inappropriate.
Please send in all your abstract submissions via https://app.oxfordabstracts.com/stages/2166/submitter by 5pm on 8th January 2021.
.