The BSGE has announced the next free Webinar. The session entitled 'Join us to discuss hot topics in Gynaecological Endoscopy' will take place on November 24th, at 6pm.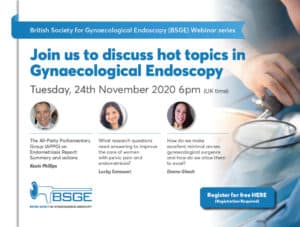 The seventh webinar in the BSGE series will cover some of the hottest subjects of debate in minimally- invasive surgery. The speakers will include BSGE Past President Kevin Phillips presenting the summary and actions from the recent All-Party Parliamentary Group (APPG) on Endometriosis Report. Lucky Saraswat will explore the research questions that need answering to improve the care of women with pelvic pain and endometriosis, and Donna Ghosh will ask how we make excellent minimal access gynaecological surgeons and allow them to excel.
The webinars last strictly one hour. They are designed to be interactive, so there will be plenty of time to ask questions after each presentation.
Regster for the session here.