The 2021 BSGE Ethicon Laparoscopic Gynaecology Programme for ST5+ has been launched.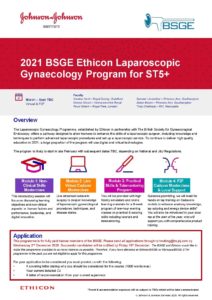 The programme, established by Ethicon in partnership with the BSGE, offers a pathway designed to allow trainees to enhance the skills of a laparoscopic surgeon, including knowledge and techniques to perform advanced laparoscopic procedure and set up a laparoscopic service.
The programme is likely to start in late February and run to September. However, dates are subject to confirmation. To continue to deliver high quality education in 2021, a large proportion of the programme will use digital and virtual technologies, including a virtual cadaver masterclass.
The programme is for fully-paid trainee members of the BSGE. Click here to find out more and submit your application.