An intrepid team of surgeons and BSGE supporters cycled to Wales for ASM 2019. They visited BSGE Endometriosis Centres en route to raise awareness about endometriosis and money for Endometriosis UK.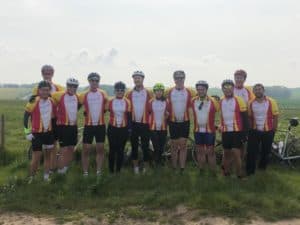 Team Endo took on a challenging 240 mile course over just two days. It started  in London and followed a route taking in BSGE-approved Endometriosis Centres in London, across the south of England and in Wales.
The route wound through some beautiful landscapes both urban and rural. It included climbs and cruises through the Surrey Hills, Box Hill , the South Downs, the New Forest, Stonehenge, Bath city centre and the Severn Bridge. After a well deserved overnight pit-stop in Salisbury, the ride finished in Wales ahead of ASM 2019.
Paul Lewis from Karl Storz shared some fantastic images of the ride as they crossed stone circles, canals and bridges.

Endometriosis UK took to Twitter to celebrate the success of Team Endo and to express their thanks for the generous supporters and sponsors, tweeting:
They did it! A big well done to our amazing team of cyclists. There's still time to support them: https://uk.virginmoneygiving.com/team_endo_uk  Thanks also to our event sponsors: #Aquilant @KARLSTORZUK @kebomed @MedtronicUK @OlympusMedUKIE @ThePlasmaJet