Past BSGE president Professor John Richard Newton passed away after a long illness on 11th March 2017 at the age of 79. He was Emeritus Lawson Tate Professor of Obstetrics and Gynaecology at Birmingham University from 1979 to 2000. Alan Gordon shared this obituary.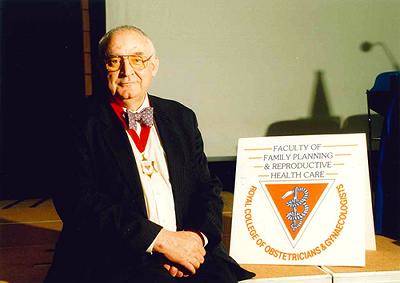 John obtained his MBBS from London University in 1962 having trained at Barts and his MD in 1972. He passed his MRCOG examination in 1967 and was elected FRCOG in 1980. He was a Foundation Member of the Faculty of Family Planning and Reproductive Health Care and was awarded Honorary Fellowship in 2002. He was also LLM from Cardiff University in Law related to Medical Practice. He published over 200 peer reviewed papers in addition to numerous other papers, chapters in books and six books.
His research has mainly been in human reproduction, minimal access surgery and medico-legal aspects of gynaecological practice. He was also involved in undergraduate education and was Assistant Dean from 1979 to 1989.
In addition to a busy clinical practice he served on a number of committees. He was an elected Member of the RCOG Council, Honorary Secretary of the British Fertility Society, a Foundation Member and Former President of the BSGE and served on committees for the ESGE, ISGE and WHO.
John retired from his University commitments in 2000 but stayed busy, acting as visiting Professor at the University of Surrey where he was on the Faculty of the MSc in Advanced Endoscopic Surgery
In spite of his heavy work-load he remained a practical gynaecologist. Nothing gave him more pleasure than teaching gynaecological surgery or working with the Faculty of Family Planning. He was a meticulous administrator who will be remembered for his kindness, hard work and his involvement in family planning and endoscopic surgery. John continued to carry out committee work even though he officially "retired" nearly 20 years ago.
He leaves his wife, Tricia, his two daughters and their children. A third child, Simon, sadly predeceased him at the age of six. Until ill health curtailed his activities, he enjoyed skiing, sailing, walking in the English Lake District and being with his friends beside the sea at Sandbanks. He was an avid reader, mainly of historical books and enjoyed life with his family and friends and, of course, his two daschunds.
Jeremy Wright also shared his memories of John's influential involvement with the BSGE:
John was very active in the Society and was president over the time I was treasurer. At that time the society was moving from a 'club' of interested people, to a society with significant assets, but the affairs of the society and it's accounts were in some disarray. With his organisational skills and legal knowledge (He qualified LLB) he reformulated the constitution of the society and guided it toward charity status, something that we achieved together. He brought the society into the international arena being the organising chairman for both a meeting of the European and the International Gynaecological Endoscopy meetings, so he is owed a great debt by the society whose success is in no small part due to his industry. He was a formidable committee man.
On a lighter note he was responsible for the design of the BSGE tie, including the bow tie which was his trade mark neck apparel. He also used his contacts in the Birmingham jewellery quarter to have the president's medal and the past president's miniature medal caste. So his memory lives on when ever it is worn.
A memorial service will be held on the 25th April at 2.30pm at the Church of the Transfiguration, Chaddesley Glen, Canford Cliffs, Poole, BH13 7PF.
All members who would like to pay their respects would be welcome.