The first RIGS HUB Webinar will take place on Tuesday, June 8th at 19.00. All competitively selected RIGS HUB candidates should register and attend as part of the programme. However, other trainee members are also welcome to access the session, if they register in advance.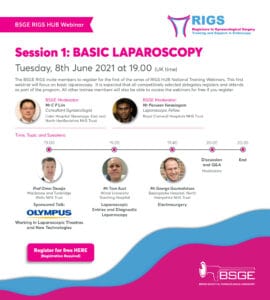 The webinar on basic laparoscopy is moderated by CP Lim and Parveen Verasingam. The 90 minute programme includes presentations from Prof Omer Devaja, Mr Tom Aust and Mr George Goumalatsos with plenty of time at the end for questions and discussion.
The RIGS HUB programme is a high-quality, standardised BSGE programme, that is delivered through a series of hands on workshops and online webinars. The programme is supported by industry sponsors, with Olympus sponsoring the first webinar.
Register for the webinar here