With 2018 drawing to a close, it's time to look forward to BSGE ASM 2019. The next Annual Scientific Meeting of the BSGE, will be held at the magnificent resort hotel of Celtic Manor, Newport,  from 21 to 23 May 2019.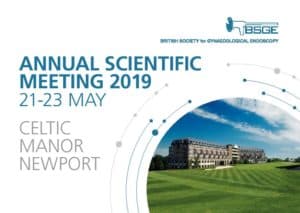 BSGE President Sanjay Vyas and Richard Penketh, co-chairs of the Local Organising Committee, announced the launch of the most important event in the Society's calendar, saying:
'We are delighted to announce that registration for BSGE 2019 is now open. A truly international faculty, novel methods of presentation and substantial industry commitment will deliver an outstanding programme around the theme of Prudent healthcare through innovation, technology and excellence.'
Next year, the best three oral and video presentations by trainees will feature in the main programme so that all trainees are encouraged to submit their work. However, the meeting won't just be about learning together. The social programme will culminate in a Gala dinner. In keeping with the venue's Celtic location, the meal will have a Welsh twist. The organisers were also delighted to announce that this year, the BSGE will be joined by Adam Kay, the famous ex Obstetrics and Gynaecology trainee and author of the best seller "This is going to hurt".
The conference is being jointly organised by teams from Cardiff and Bristol. The LOC have secured preferential rates at the Celtic Manor, and with all accommodation on site there will be plenty of time to chill in between scientific sessions. The competitive room rates will expire by mid-February, so make your plans early to avoid disappointment and added costs.
With superb facilities, beautiful accommodation and fabulous social events all under one roof, BSGE 2019 promises to be a memorable event. So, put the date in your dairy and click here to find out more.