As the NHS faces unprecedented challenges from the COVID-19 pandemic, patients continue to suffer from other conditions. Surgery for gynaecological emergencies and cancer is ongoing. However, surgeons and theatre staff face additional difficulties reducing the risk of viral transfer and maintaining their safety and that of their patients. BSGE Editor Jimi Odejinmi said:
"The basic message is to stay safe and follow guidance to ensure the safety of surgeons and patients during this pandemic.' He added:
'The BSGE officers and council members responded immediately by publication of guidelines surrounding the safe use of laparoscopy in this pandemic jointly with the RCOG. This may be subject to change as we get to know more about this coronavirus. It was the first guideline by a gynaecological endoscopic society followed closely by the ESGE and the AAGL'.
Rebecca Mallick, Jimi Odejinmi and Justin Clark have recently published a paper exploring the knowns and unknowns. In an ever evolving  situation, Rebecca has summarised some of the current key recommendations: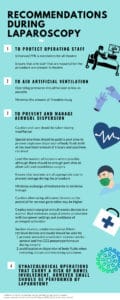 Mallick et al. Covid 19 pandemic and gynaecological laparoscopic surgery: knowns and unknowns Facts Views Vis Obgyn, 2020, 12 (1): Epub ahead of print
Despite the widespread cancellation of elective work, emergency gynaecology and cancer surgery continues and it is imperative all theatre staff are protected from the risks of SARS-CoV-2 viral transmission when operating on asymptomatic, suspected or confirmed COVID 19 patients.
This paper was created as a result of a rapid response review of all the up to date evidence, including experiences from China and Italy, to help guide the safe management of such patients when undergoing gynaecological procedures and aid safe decision making.
Full paper can be accessed here: https://fvvo.be/in-press/covid-19-pandemic-and-gynaecological-laparoscopic-surgery-knowns-and-unknowns/
Recommendations during laparoscopy
To protect operating staff:
Enhanced PPE is mandatory for all theatre
Ensure that only staff that are required for the procedure are present in theatre
To aid artificial ventilation
Operating pressures should be kept as low as possible
Minimise the amount of Trendelenburg
To prevent and manage aerosol dispersion
Caution and care should be taken during insufflation
Special attention should be paid to port sites to prevent explosive dispersion of body fluids both at the insertion/removal of trocars and specimen retrieval
Limit the number of incisions where possible, although there should be enough port sites to allow safe and expeditious surgery
Ensure that incisions are of appropriate size to prevent leakage during the procedure
Minimise exchange of instruments to minimise leakage
Caution when using ultrasonic devices as the potential for aerosol generation may be higher.
Employ electrosurgical and ultrasonic devices in a manner that minimises surgical smoke production with low power settings and avoidance of prolonged activation.
Suction devices, smoke evacuation filters, retrieval devices and swabs should be used to: (1) prevent aerosol transmission: remove smoke, aerosol and the CO2 pneumoperitoneum during surgery and (2) avoid explosive dispersion of body fluids when removing trocars and retrieving specimens.
Gynaecological operations that carry a risk of bowel involvement, however small should be performed by laparotomy.
Other recently published papers:
Morris et al. Understanding the "Scope" of the Problem: Why laparoscopy is considered safe during the COVID-19 pandemic. JMIG 2020; epub ahead of print.
https://www.jmig.org/article/S1553-4650(20)30171-0/fulltext
Recommendations
The surgical team should minimize exposure to airborne virus during intubation and extubation and OR personnel should don adequate PPE including face shields, N95 filtered masks if available, gowns and gloves.
Performing laparoscopy with lower intraabdominal CO2 pressures and minimizing the use of energy will limit the production of surgical plume and pneumoperitoneum.
The use of a smoke evacuation/filtration system allows for controlled release and filtration of the surgical plume is recommended.
Ideally, gas and plume evacuation and filtration is accomplished with the use of ultralow particulate air filter (ULPA) rated to screen particles of 0.1 micron in diameter (e.g., the ConMed Airseal or Stryker Pneumoseal).
In conjunction with tightly fitting laparoscopic ports, an evacuation/filtration system can be used to minimize release of potential airborne virus into the operating room environment, while simultaneously evacuating the surgical smoke actively or passively.
It is important to avoid sudden release of the pneumoperitoneum.
In summary, laparoscopy remains the preferred surgical approach for gynecologic patients during the COVID-19 pandemic for most surgical indications. The theoretical risk of airborne SARS-CoV-2 from an abdominal source at the time of surgery has not been substantiated. There is no current evidence that infection of OR personnel occurs via laparoscopy any more so than laparotomy surgery. However, given the paucity of data, it is prudent to take precautions in the operating room given that viral particles can be aerosolized during intubation and extubation.
Cohen et al. Perspectives on Surgery in the time of COVID-19:Safety First. JMIG 2020; Epub ahead of print
https://www.jmig.org/article/S1553-4650(20)30172-2/fulltext
Recommendations
In patients who are COVID-19 positive, unless they have a life-threatening emergency that requires surgery, we advocate for non-operative treatment and delay of surgery until recovered.
If surgery cannot be delayed for a COVID-19 positive patient, a laparotomic operation should be performed.
In patients with unknown COVID-19 status, preoperative testing is ideal when available.
Laparoscopy can be performed in a COVID-19 unknown status patient if the entire operating room team has access to necessary personal protective equipment and extreme care is taken to prevent release of pneumoperitoneum into the operating theatre.