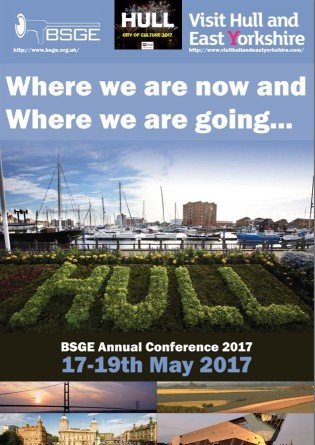 As this year's hugely successful ASM in Cornwall draws to a close, the plans for next year's event have already been announced and the BSGE is going right back to its roots.
The very first full meeting of the new BSGE was held in Hull, hometown of our first president Alan Gordon, in September 1990 and 27 years later it's returning. Back in 1990, Jacques Donnez from Brussels was the keynote speaker.  The meeting took the form of a two-day presentation of scientific papers with a dinner in the hotel on the first evening.  The meeting was very successful with about 50 participants, many of whom have since become leaders in the field. More than a quarter of a century later, next year's meeting will hopefully be just as innovative and influential.
So why Hull? Many people remember Hull as being the place that had the dubious honour of topping the charts in a list of the worst places to live in Britain in the aptly named book Crap Towns. However times have changed, Hull has a thriving medical school, it is the UK Capital of Culture in 2017 and this year it was named by the Rough Guides as one of the top ten places in the world to visit, alongside Amsterdam, Nashville and Mexico City.
"Brimming with new hotels and restaurants, and even more of that distinctive home-grown creativity the city has always had. There are atmospheric old-timey pubs, eight excellent museums and a picturesque Old Town with cobbled streets."
So, make a note in your diary; BSGE ANNUAL SCIENTIFIC MEETING 2017, HULL from the 17th to 19th May, 2017.