Don't miss the next free BSGE webinar. The session is called 'Ghosts of Presidents past' and features festive celebrations and discussions between four past and present BSGE Presidents.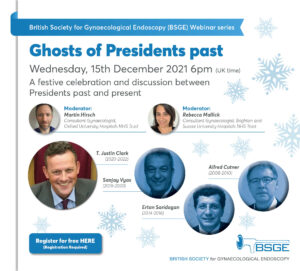 Join Justin Clark (2020-2022), Sanjay Vyas (2018-2020), Ertan Saridogan (2014-2016), Alfred Cutner (2008-2010) and the moderators Martin Hirsch and Rebecca Mallick on Tuesday 15th December at 18.00.
Register on Zoom
If you can't make the webinar, you can catch up with the chat in the next BSGE:Uncut podcast.