The BSGE, in collaboration with the European Society for Gynaecological Endoscopy (ESGE), is launching the Gynaecological Endoscopy Education and Assessment (GESEA) Programme in the United Kingdom.
The announcement was made by BSGE President Dominic Byrne with Sanjay Vyas, BSGE President Elect, Ertan Saridogan who will be the GESEA Programme Director for the United Kingdom and Karolina Afors who will be the Chief Instructor.
Many members will be familiar with the GESEA Programme having enrolled onto it via the ESGE. It is a well-structured training course set up by the ESGE together with the European Academy of Gynaecological Surgery.
Recent changes in the gynaecology curriculum require simulation training as an essential component. In light of this, the organisers said:
'We feel that the GESEA Programme offers the complete package and also leads to certification and diploma in gynaecological endoscopy. GESEA is recognised by the European Board College of Obstetrics and Gynaecology (EBCOG) and European Network of Trainees in Obstetrics and Gynaecology (ENTOG).The BSGE will act as a diploma centre in the UK from early 2018.'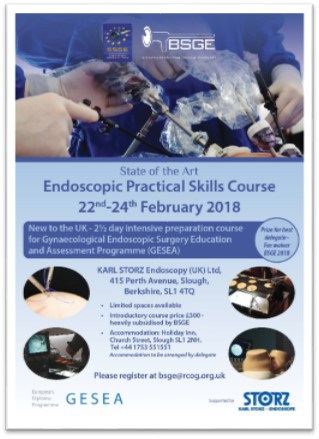 As the first step of this programme, there is a 2.5 day intensive training programme on 22-24 February 2018 in Slough, with the first examination and practical test prior to the BSGE ASM in Edinburgh on 9 May 2018.
Dominic Byrne said 'We expect the programme will be popular amongst the trainees and young consultants in the UK and look forward to seeing many members taking part'.
To register and find out more, click here. Further information can also be found on the websites of the ESGE and the European Academy of Gynaecological Surgery.