The third BSGE UNCUT podcast is now available to stream or download.  The podcast is the latest in the Leader Profiles series and features an in-depth interview with special guest Professor Christian Becker.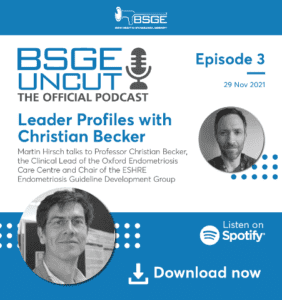 This month Martin Hirsch chats to world renowned endometriosis researcher Professor Christian Becker. Christian is the clinical lead and Co-Director of the Oxford Endometriosis Care Centre, which is one of the largest BSGE accredited Endometriosis Centres. Professor Becker was co-opted member of the NICE guideline committee for endometriosis and is current chair of the ESHRE Endometriosis Guideline Development Group..
Listen to the session free on Spotify where you can also catch up with any episodes you've missed.