Description
Date
Tuesday, 2nd March 2021
Time
10:00- 15:00
Venue
Virtual. Newcastle Surgical Training Centre.
Objective / Programme
Increase confidence in pelvic anatomy and pelvic sidewall structures. Step by step laparoscopic hysterectomy. Laparoscopic suturing tips and tricks and management of complications during laparoscopy.
Who should attend
Trainees and consultants who wish to deepen their knowledge in advanced laparoscopic surgery and pelvic sidewall anatomy.
Maximum delegates
100
Workshop fee
£50
Course organiser
Tony Chalhoub, Consultant Gynaecologist, Newcastle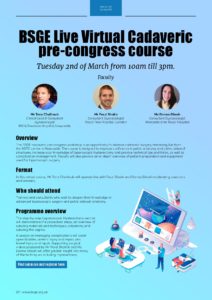 You can download course flyer here.
CLOSURE OF REGISTRATION AT MIDNIGHT MONDAY 22 FEBRUARY.