ESGE 31st Annual Congress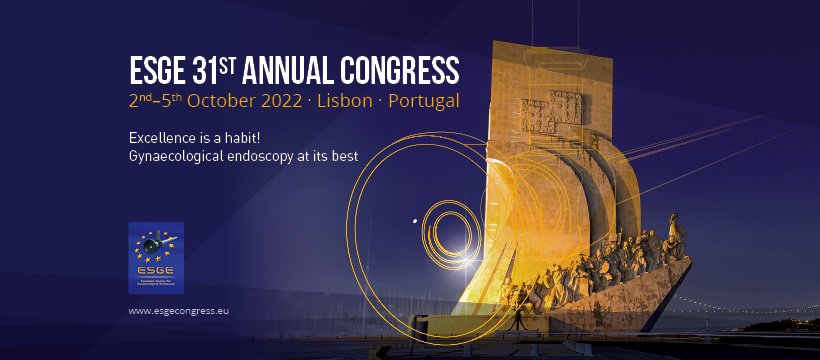 Sunday with Something for Everyone! 2nd October 2022
Dear friends and colleagues,
We are thrilled to share details about the opportunities that our Congress Scientic Programme offers starting Sunday 2nd October 2022!
For more information & registration, please click below:
Cadaveric Dissection Demonstration
EARLY BIRD REGISTRATION
Deadline 13th July 2022
SCIENTIFIC PROGRAMME ONLINE!
ESGE 31st Annual Congress
Lisbon, Portugal, 2nd-5th Oct 2022
Registration is now open and the Preliminary Scientific Programme* is online for the ESGE 31st  Annual Congress which will take place in Lisbon on 2nd-5th October 2022.
The Scientific Committee has developed a programme to offer the participants four days of high
quality, evidence-based topics and Live Surgeries from contemporary developments in various
disciplines of Gynaecological Endoscopy.
On Sunday 2nd October the morning programme will begin with Pre-Congress Courses such as Young
Hysteroscopist, Urogynaecology and Robotics. Later during the day a Laparoscopic Cadaveric dissection
and Robotic Cadaveric Dissection are planned. A GESEA Train the Trainer PC Course will also be
available for a limited number of participants.
Monday 3rd and Tuesday 4th October GESEA certification exams for Level 1 (Bachelor) and Level 2
(MIGS) are planned.
Please keep in mind: Early Bird & Abstract Submitters Registration Deadline is 13th July !
Register and join us in Lisbon among the brightest minds in the field of gynaecological endoscopy!
*Preliminary programme, please bear in mind changes can occur