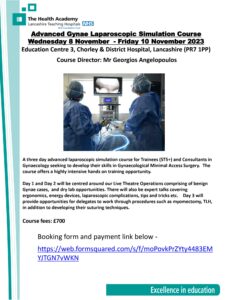 A three day advanced laparoscopic simulation course for Trainees (ST5+) and Consultants in Gynaecology seeking to develop their skills in Gynaecological Minimal Access Surgery. The course offers a highly intensive hands on training opportunity.
Day 1 and Day 2 will be centred around our Live Theatre
Operations comprising of benign Gynae cases, and dry lab opportunities. There will also be expert talks covering
ergonomics, energy devices, laparoscopic complications, tips and tricks etc. Day 3 will provide opportunities for delegates to work through procedures such as myomectomy, TLH, in addition to developing their suturing techniques.
Course fees: £700